Greetings!
German Translation
We are proud to announce that the German translation of LoX is in progress and already about 30% done. Very soon you will be able to play LoX in French and German, even during the Early Access phase.
New Class Available: The Divine Summoner
As we promised in our crowdfunding campaign, we have created a new advanced class for an original play style. The Divine Summoner is a special class we want to include, because we feel it will add even more depth and fun to your adventure, if you can master it. As a Divine Realm class, he summons and commands the heralds of the Gods. There are 8 different Heralds, one per every Lord of Xulima except Yûl because as you know, his Heralds only serve to the will of the Guardian of Souls.
Every Herald has its corresponding skill to be developed with 30 different levels. Furthermore, the Divine Summoner has 5 more skills to improve different aspects of the summonings.
The Divine Summoner can summon up to two Heralds at the same time in combat. These Heralds take the two empty positions in the character position grid, creating interesting tactical scenarios. The Heralds only remain in combat during a short period of time. If you summon a Herald who is already in battle, it will be restored to their original state (summoning time, life, power…).
The Heralds have their own IA and personality. You decide which of them you summon in the battle, but what they do in combat depends on their own will.
Which of them will you choose to assist you during combat? Take a look at what they can offer you…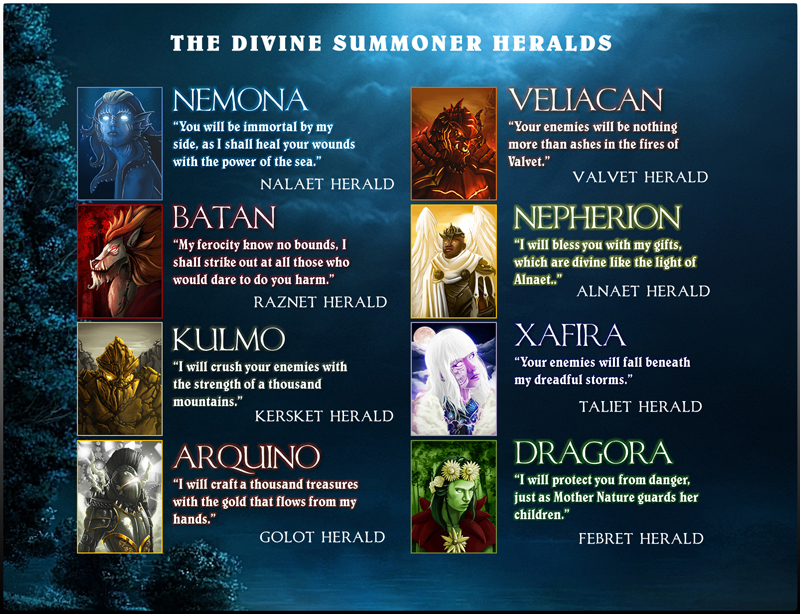 The next update is scheduled for the end of the next week in which a lot of new content will be unlocked, about 30 hours more of gameplay!
See you soon!
Posted by Julie
On September 25, 2014
0 Comments