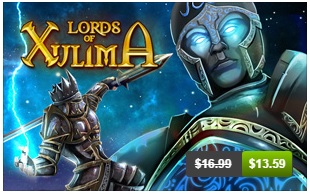 Now available in the Humble Store, Lords of Xulima will be 20% off for a limited time.
Just like the Humble Bundles, the Humble Store is also committed to charity, as 10% of every sale goes towards their selected charities. These charities include: American Red Cross, Child's Play Charity, Charity: Water, World Land Trust, and Electronic Frontier Foundation.
Now is a great time to purchase Lords of Xulima, as we will increase the price of the game with the official release and added content.
To get a copy for yourself, or for a friend, follow the link to the Humble Store!
If you want more than just a Steam Key, and would be interested in a physical print, limited edition copy of Lords of Xulima, there is still some time left to pre-order through our Store Page.
Posted by Julie
On September 29, 2014
0 Comments